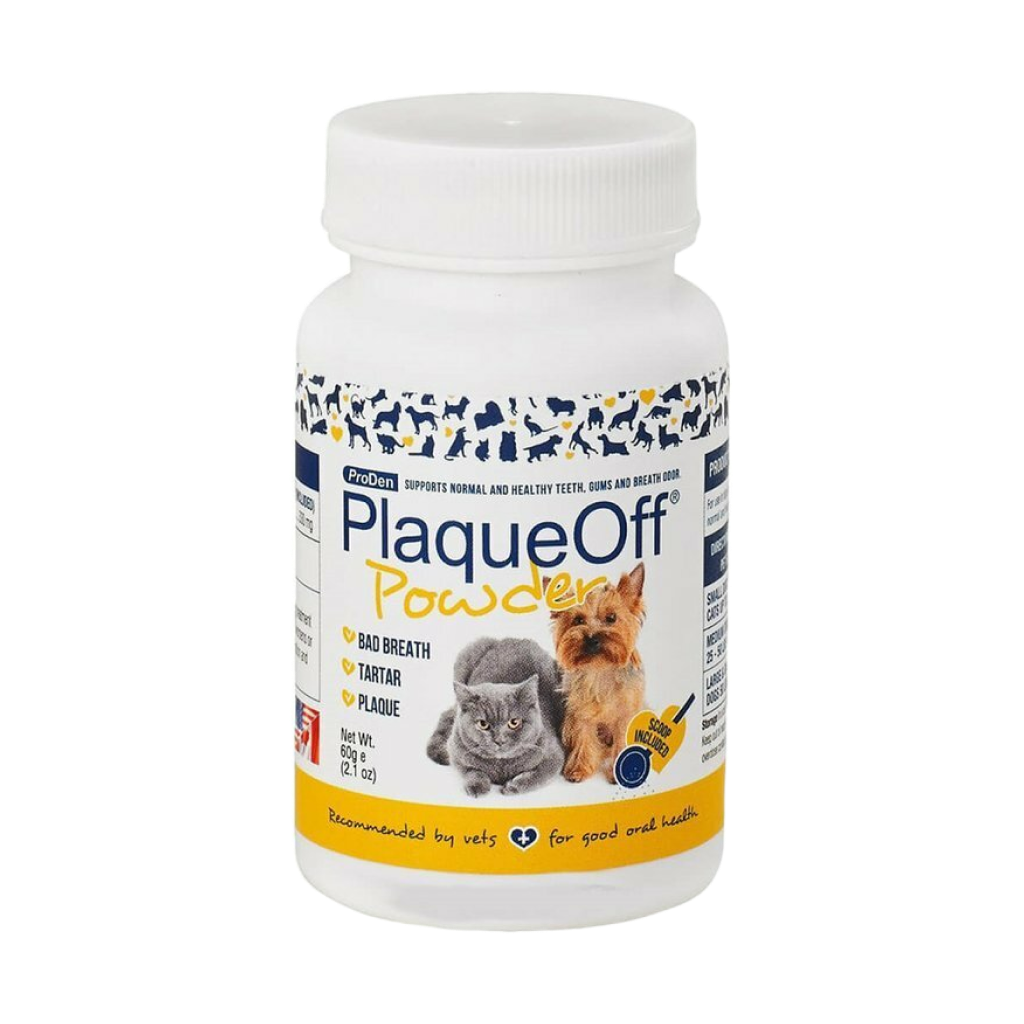 ---
Details
Description
ProDen PlaqueOff® Powder is a pet dental product for dogs and cats available from veterinary practices and selected pet shops. Used daily, this 100% natural product made from seaweed can significantly complement your pet's ordinary dental hygiene.
Ingredients
Natural plant marine algae D1070, minerals and trace minerals 22%, fibre 6%, proteins with all amino acids 6%, Omega-3 fatty acids 2%. Free of artificial coloring, preservatives, gluten, salt and sugar.
Additional Comments:
PRODEN PLAQUEOFF® POWDER SHOULD BE USED ONCE DAILY AND CAN BE ADDED TO WET AND DRY FOOD. START WITH A SMALLER AMOUNT TO GET YOUR PET ACCUSTOMED TO THE TASTE, THEN INCREASE TO THE RECOMMENDED AMOUNTS. SPRINKLE THE PRODUCT ON TOP OF THE FOOD OR MIX IT WITH THE DRY OR WET FOOD ONCE A DAY. HOW LONG IT TAKES BEFORE YOU NOTICE AN EFFECT MAY VARY FOR EACH INDIVIDUAL. IF THE DESIRED EFFECT IS NOT ACHIEVED AFTER 2 MONTHS YOU CAN INCREASE THE AMOUNT. AIM TO RETURN TO THE RECOMMENDED AMOUNT WHEN THE EFFECT HAS BEEN ATTAINED.
Visit your local Los Angeles or Orange County Centinela Feed and Pet Supplies Pet Store for all the best choices in dog food and cat food near you including: dry dog food, dry cat food, frozen raw food, frozen gently cooked food, freeze dried food, air dried food, wet dog food, wet cat food. Don't forget pet supplies including: toys and treats, waste management, litter, poop bags, flea and tick, and dental.