Gift Certificates
Purchase an eGift Card
Only Item In Cart Restriction
Due to the logistics of delivering this item to you, only this item can be purchased in an order. If any other item is in your order you will have to remove them in order to finish checking out.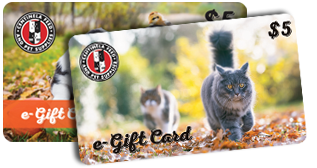 Delivered by email within hours
Use online or in-store
eGift Card General Information
eGift Cards can be ordered in any amount between $5.00 and $500.00. They are sent via email to any individual with a valid email address. The recipient of an eGift Card will receive an email with a eGift Card code redeemable only at Centinelafeed.com or any Centinelafeed retail location. The code is activated within 24 hours after receiving the email.
Terms Of Use
You cannot purchase an eGift Card with another eGift Card.
If the amount of your eGift Card does NOT cover the total order amount, you will need to pay the remainder of the purchase with a valid credit card.
If the amount of your eGift Card is for MORE than the total order amount, the balance will be stored with your eGift Card for your next purchase using the same eGift Card code.
If you have any additional questions, please contact our Customer Service team.
eGift Card are non-transferable, non-refundable and are not redeemable for cash (except where required by state law).
We cannot replace lost or stolen eGift Cards.